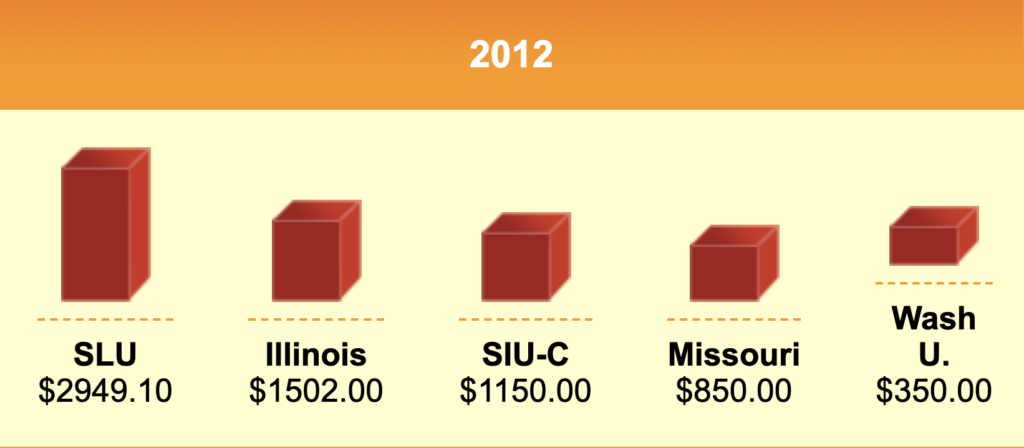 The impetus for the Madison County Bar Association Scholarship Committee was a talk that SIU School of Law Dean Haynesworth gave at Rusty's Restaurant in 1993. Dean Haynesworth noted the soaring cost of Law School and encouraged the MCBA to engage in a campaign of group philanthropy to perhaps assist Madison County residents who were students at SIU.
The pioneers of the Scholarship Committee were Mike Bilbrey, Gary Coffey, Chris Hunter, Mary Nalefski, Dennis Orsey, and Irv Slate as chairman. The following year Julie Matoesian and Bonnie Levo were added to the Committee.
The Committee requested donations from the MCBA members who donated money in the name of their alma maters. All money raised would go to Madison County residents who were students at the Law Schools.
The first gifts were made in 1995 to St. Louis University and Southern Illinois University's Law Schools, each in the amount of $10,000. The following year the MCBA awarded $12,500 each to SLU, SIU, Washington University, and University of Illinois Law Schools. By 2006, SLU and SIU each had a Madison County Bar Association endowed scholarship fund of over $25,000. Washington University and the University of Illinois had awarded funds as received.
In 2007 under the leadership of Larry Taliana and Irv Slate, the Committee introduced a competitive element to its activities. The Committee decided to hold a competition where contributions made by members to their alma maters were matched by the MCBA. The Committee obtained a commitment of $6,000 from the MCBA. The members were asked to contribute to the school of their choice, with the association's contribution to be divided among the respective schools in the same proportion as the members' contributions. In 2007, the MCBA contributed $8,445, which was distributed among the 4 schools.
In 2008, a similar campaign produced $14,880, in 2009, $18,312, and in 2010, $23,043. By raising and distributing in excess of $200,000.00, local lawyers have availed themselves of the opportunity, afforded to them by the Madison County Bar Association, to assist Madison County Law students to achieve their educational goals, and hope to continue to do so well into the future.
In 2011, President John Stobbs added the possibility of members making donations online and over $7,500 was raised in the first year through the website.
The Madison CountyBar Association has made it easy to donate to a Law School of your choice. Fill in each field below and your donation will be received electronically and instantly!
The Madison County Bar Association is currently not accepting donations online. This page will be actively accepting donations during our next donation drive for scholarships and other programs within the community. Check back soon!